Our Team
 "When I was on the subway I asked a person to help me memorize my lines."

—Edwin Ramirez, Class of 2007

Lisa Citron, Founder and Executive Director
Lisa, a former teacher, conceived and designed (Out)Laws & Justice. Her recent work includes creating the millennium campaign for the City of Santa Monica, writing and producing a theatre piece for Santa Monica College to dramatize educator Howard Gardner's Theory of Multiple Intelligences; and a Bay Area-wide campaign for the San Francisco Public Library, City of Poets, honored by the California Campaign for National Arts and Humanities.

Alita Zurav Letwin, Teacher/Trainer, Professional Development
A senior consultant with the Center for Civic Education for 32 years, Alita has led professional development for classroom teachers for (Out)Laws & Justice since the year 2000. She joined the (Out)Laws & Justice board in 2010. A co-chair of the Task Force on Minorities and Women in Law-Related Education, Letwin's most recent publication is the annotated bibliography, Literature for Children and Young Adults: Examining Issues of Violence and Conflict Resolution.
Stephen L. Druker, Ph.D., Evaluation
A recognized childhood education researcher who has performed evaluation programs in the U.S. and internationally, Dr. Druker is developing an array of long-term evaluation and assessment models, designed to make (Out)Laws & Justice responsive to evolving student/teacher experiences and needs within different schools and school systems.
TEACHING ARTISTS

Jennifer Lyn Browne
Jennifer Lyn Browne has been working with youth in Canada and Los Angeles for most of her adult life. She currently works in the role of trainer for Inside Out Community Arts, training artists to lead theater arts workshops for Los Angeles middle schoolers. She has worked with such notable programs as the YMCA, Inside Out Community Arts, L.A. Bridges, L.A. Child Guidance, Venice Arts Mecca and Starview Community Service. Populations served include underserved inner city middle school youth, emotionally disturbed youths and juveniles incarcerated in the Metropolitan State Mental Health Facility. As a photographer, Jennifer has participated in various group shows in Los Angeles and is currently working on a body of work that explores loneliness in Los Angeles and is set against a backdrop of the rapidly changing downtown district. Documentary work includes a journey to Swaziland photographing a group of doctors and nurses treating women and children infected with HIV/AIDS.

Yessenya Caro
Yessenya Caro was born in Ecuador, where she discovered her passion for culture, dance, theater and teaching. Yessenya received a BA in Theater from the University of California, Irvine. She trained at the Accademia DellÂ' Arte in Italy where she studied Comedia dell' Arte technique. Yessenya has worked in the Los Angeles professional, community, and educational theatre for over ten years. As a drama instructor, Yessenya has taught youth theater at the Imagen Azul Latino Arts Academy and at the Free Arts for Abused Children non- profit organization. She also has served as a theater instructor for after-school programs in the LAUSD. As a theater artist, Yessenya has collaborated with community groups and organizations that include The Armory Center for the Arts, UCLA Hammer Museum, Self Help Graphics, and Mexican Benefit Committee. Also a playwright, Yessenya is cofounder of the Samai Theater Company that has produced several plays for audiences of all ages in Los Angeles since 2004.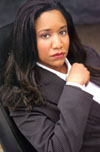 Gina Marie Fields
Gina Marie Fields is an actor and a storyteller. She has performed on stage and worked with children and teachers on and off stage for 18 years. She has worked with such notable theater groups as the We Tell Stories, The Imagination Co., Great Leap, San Jose Repertory's Red Ladder Theater Group, New Conservatory Theater and the San Francisco Shakespeare Festival, among others.  She has taught storytelling, improvisational work, Shakespearean text, Education-in-AIDS and basic theater skills.  She is also a 'working actor' in Los Angeles, most recently seen on television in "Medium," "The Shield" and "Nip/Tuck."  On stage she has performed in "Twelfth Night" at the Globe Playhouse and "Icarus and Aria" at the Sacred Fools Theater and "Insurrection: Holding History" at The Celebration Theater. She received her B.A. in psychology, with an emphasis on children's studies and dramatic arts from University of California, Berkeley. Gina is overjoyed to be a teaching artist with (Out)Laws & Justice, which inspires teacher and empower children to find and use their own voice.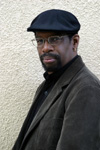 John Freeland, Jr.
John Freeland, Jr. is an actor, acting instructor and stage manager. He has performed on stage and worked with children and teachers on and off stage for over 25 years. He has worked with such notable youth programs as Speak Up!, Towne Street Theatre Co.,  The Story Project, Inside Out Community Arts and the Virginia Avenue Project, among others.  He has taught improvisational work, techniques for developing plays to performance and basic theater skills.  He attended Wesleyan University Theatre studying acting and directing.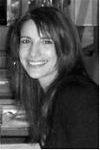 Desiree Friedmann
Desiree Friedmann, process drama trainer. Desiree is currently writing process dramas handbook for (Out)Laws & Justice classroom teachers which are based on the (Out)Laws & Justice textbook, as well as leading OLJ teacher trainings in Los Angeles. A faculty member of the Westside Neighborhood School, Desiree is a former academic advisor and instructor for the program in Educational Theatre in the Music and Performing Arts Department at the Steinhardt School of Culture, Education and Human Development. Courses taught included: Dramatic Activities in the Elementary Classroom; Intro to Educational Theatre 1 and 2, Drama Across the Curriculum and Beyond; Integrated Arts II in Early Childhood Education; Multicultural Perspectives in Social Studying in Early Childhood Education; and Student Teaching in the Elementary Classroom Seminar. She was awarded the NYU Teaching Excellence Award in Spring 2008. Desiree oversaw graduate and graduate students who performed adaptations of ShakespeareÂ's plays to NYC schools for free. Desiree helped to organize and run Educational Theatre's yearly conferences for the past few years, creating forums for teachers and experts from around the world to put their heads together and examine issues of arts in education. Before NYU, she taught 3rd-6th grades in private and public schools, worked as a teaching artist K-12 and taught theatre to all ages in various community organizations. She was also adjunct faculty at the Ringling School of Art and Design where she taught acting and theatre arts to animators. In addition to teaching, Desiree continues to develop her craft as an artist. She has written and directed several children's productions, performed in children's theatre, written and directed shows performed at universities.

Peter Kors
Peter Kors brings a wealth of professional experience in theatre, music and performing arts education into the classroom. He has performed with the innovative children's theatre group We Tell Stories and was featured in a number of productions with the Mark Taper Forum's P.L.A.Y (Performing for Los Angeles Youth), where he played the title role in "According to Coyote." As a theatre arts teaching artist, both in the classroom and as a presenter of Professional Development workshops, Peter is a veteran Master Teaching Artist on the roster of the Los Angeles County Music Center, and joined the roster at the Orange County Performing Arts Center as a Master Teaching Artist in 2003. A co-founder of the internationally acclaimed Dell'Arte School of Physical Theatre in Northern California, he teaches an acting class to high school students every summer at Inner Spark, the California State Summer School for the Arts at the California Institute for the Arts. A popular actor and storyteller with audiences throughout Los Angeles, he has been featured in films, on television – guest starring on "The West Wing" (NBC) and co-starring on "Bram and Alice," (CBS) – as well as in interactive media, and as a voice actor in numerous films, commercials and television shows.

James Miles
James Miles, teaching artist, is launching (Out)Laws & Justice in New York with Annie Montgomery. He has directed for BAM's student programs and is a teaching artist with Disney, New Victory Theatre, Brooklyn Arts Council, The Public Theatre, Brooklyn Arts Exchange, and is an instructor at the New York Film Academy as well. James has performed in theatre, TV, and film in and around New York for several years and has a recurring role on the PBS show, "The Electric Company." He uses his strong improvisation background as the foundation for his teaching and his performing. James holds an MFA from Brandeis University and a Bachelor of Arts from Morehouse College.

Annie Montgomery
Annie Montgomery is an actor, director and teacher. A teaching artist for over 10 years, she is launching (Out)Laws & Justice in New York with James Miles, as well as working for The New Victory Theatre and for Disney Theatrical Productions. She also serves on the Enrichment Team of the New Victory Theatre, which is an advisory committee of New Vic teachers who look at peer mentoring and observation and other New Vic initiatives. Annie has also worked for Creative Theatrics and has developed original material with the children enrolled in their programs. Annie has written an ethnographic performance piece called Developing the Professional Identity of the Teaching Artist which was presented this year at the AATE conference in New York City. She also founded the Brooklyn Mothers and Artists Company, a theatre company that is committed to supporting the artistic and performance work by mothers. She appeared in the lead role of Lisa in the off-broadway production of That Ilk at the Hudson Guild Theatre. She has also worked in numerous regional productions at the George Street Playhouse, Cincinatti Playhouse in the Park, the Wayside Theatre, and the Hangar Theatre. Annie believes in empowering her students to discover their own incredible creativity and the endless possibilities where their creative spirit can take them.

Michael Wiggins 
Michael Wiggins is a teaching theatre artist and consultant based in New York City. He is the Founding Artistic Director of MUD/BONE, winner of a 2006 Union Square Arts Award for grassroots arts programming. He has over 12 years of experience working with well-respected cultural organizations and schools including The New Victory Theater, where he is a member of the Teaching Artist Enrichment Team; Brooklyn Arts Exchange; The Park Avenue Armory; and the New York University Tisch School of the Arts. He has been the Education Program Consultant and Teaching Artist Trainer for the Public Theater for the past 11 seasons and has designed and led original arts workshops for students of all ages, backgrounds and levels of experience. Mr. Wiggins specializes in working with diverse communities and has designed and facilitated original professional development sessions for classroom teachers and teaching artists on a variety of topics including classroom management, Shakespeare and using drama techniques in the classroom. He served as a proposal review panelist for the New York State Council on the Arts Theater Program and was a member of the writing committee for the New York City Department of Education's Blueprint for Teaching and Learning in the Arts. For the past five years he has trained with Jonothan Neelands in the strategies of process drama. Education: The New York University Graduate Acting Program ('98).