June 5, 2007 – La Opinion Editorial

La Opinion
Editorial / Commentarios
June 5, 2007
Los Angeles, California
En Español
EIGHTH GRADERS SEPARATE THE MYTHS OF VIOLENCE FROM THE REALITY
by Pedro A. Noguera, Ph. D.
The violence of ethnic conflict that JoaquÂ'n Murieta suffered, a century and half ago, still echoes today in the lives of the urban poor and it is more painfully evident in public schools that do not serve Latino students well. When JoaquÂ'n Murieta set out from Mexico with his wife to seek their fortune in California's Gold Rush, he may not have anticipated problems because he was Mexican. After all, it was only two years since Mexico lost the Mexican-American War and Spanish was still the primary language in Alta California. But the California Foreign Miners' Tax of 1850 and the brutal expulsion of Californios and Mexicans from the mines set the stage for ethnic violence. Murieta was forced off his claim by American miners who raped his wife and hanged his brother. Murieta's vengeance became, as historian Richard White observes, "An enduring myth that symbolizes ethnic conflict as a response to personal injustice."
The Murieta myth keeps alive powerful cultural beliefs about the outlaw as a hero, a romantic figure, with the myth resting on the laurels of its tragic story in romantic corridos. Today, however, peaceful resolutions to conflict, justice not vengeance, are what we need. There is nothing vengeance can do for illiteracy, dropping out of school or the eight children and teenagers a day lost to gun violence.
An alternative strategy in the classroom is needed. One that places diversity with respect to culture, class and environment, at the center of education in middle school, where the seeds of despair and dropping out in high school are sown. (Out)Laws & Justice, a non-profit Los Angeles education project that addresses youth literacy, violence and its prevention, provides such a strategy. Exploring themes of racism, poverty and injustice with students in the context of core American values formed in westward expansion- honor, justice, rugged individualism and self-defense – (Out)Laws & Justice addresses the roots of violence. The perspectives held by adolescents toward violence and their education provide a unique window through which to understand how violence is enacted and how its meaning is conveyed in a variety of settings. Such an approach is not only more effective in appealing to the sensibilities of urban youth, but also in giving them a means and motivation to alter their own behaviors.
(Out)Laws & Justice provides eighth-graders the opportunity to study the roots of violence through the stories of the many 19th century people who ranged, settled and contested the land, the mines and the reins of power. Through examining the basics of identity, culture, violence and justice, the skills of non-violent conflict resolution are developed. The goal is for students to decide to become informed citizens and participate in creating a just and civil society.
Latinos are over-represented among the ranks of the poor and low income in part due to the pervasiveness of racialized inequalities, particularly within education. Consequently, too many Latino youth are trapped in the worst schools, and are treated as though their inability to speak fluent English is a sign of cognitive and cultural deficit. Latino students are over-represented in most categories of crisis and failure (i.e., suspensions and expulsions, special education placements), while underrepresented in those of success (i.e., honors and gifted and talented classes). The prevalence of the hardships faced by these youth has contributed to the notion that they are by their very nature "at-risk", and promotes stereotypes of them being irresponsible, anti-social and even dangerous. As a result of such views, school authorities, policy makers and the media have promoted punitive policies aimed at controlling their behavior through harsh school expulsion and law enforcement measures leading to increased incarceration. Such measures overlook the real environmental factors that place urban youth at risk (i.e. joblessness, de-industrialization, environmental degradation, school failure, etc.) and that shape their lives and opportunities. Violence in America is so central to our national identity that it permeates the fabric of our society.
The intensive (Out)Laws & Justice curriculum is one way to change a school's culture; teachers display greater interest in their students and modify their teaching approaches to become more effective at meeting their students' learning needs. Students, in turn, take their education more seriously. They culminate a year's work with performances of original poems, family oral histories and short plays written by the students for their peers, families and community. These works interpret historic events like that of Murieta, and their relationship to today's urban frontiers. (Out)Laws & Justice successfully promotes resilience and relief from the hardships Latino youth endure. Through culturally competent values and a rigorous academic context to understand the challenges they face, students step away from circumstances that stifle their ambitions and dreams.
This is the gold of our time and place. This city and school district have done poorly in providing opportunities that address ongoing racial conflicts, which are historically linked to violence. Now, with Out(Law) & Order, there is a chance that JoaquÂ'n Murieta and his assailants never had.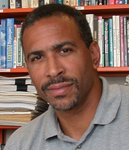 ---
Pedro Antonio Noguera, a board member of (Out)Laws & Justice, is a professor in the Steinhardt School of Education at New York University and the Director of the Center for Research on Urban Schools and Globalization. An urban sociologist, Noguera's scholarship and research focuses on the ways in which schools are influenced by social and economic conditions in the urban environment.